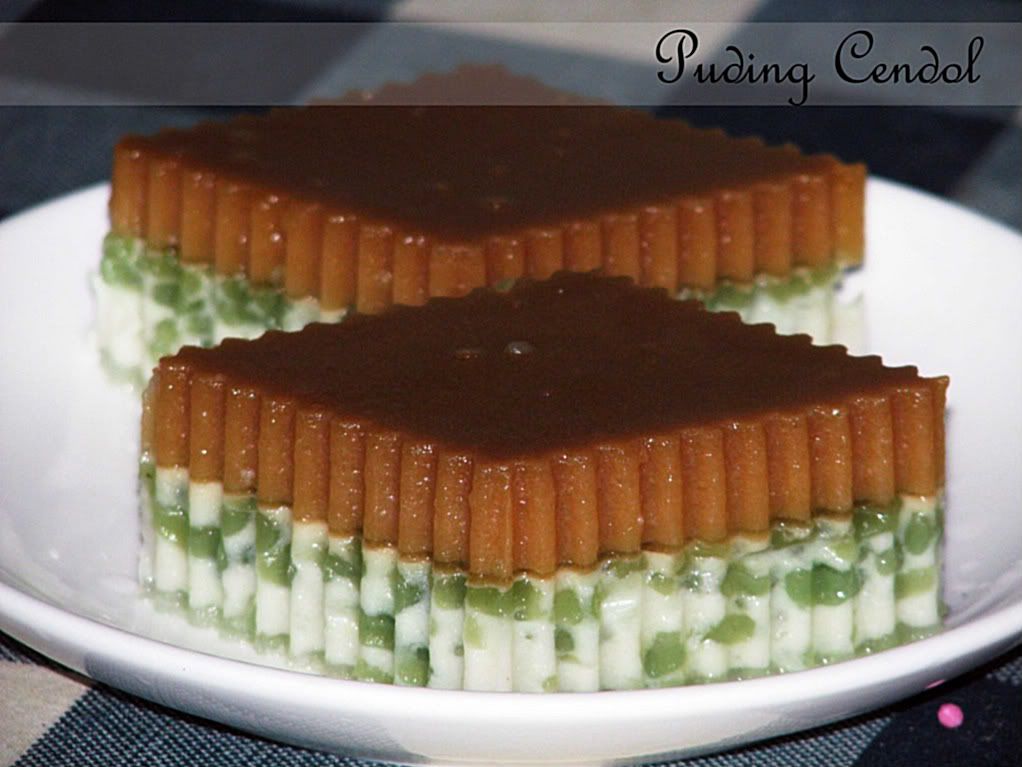 Ambil dari
tuntung15@MyR
aka kak ogy. Thanks for the recipe. Cuma a bit sweet for me, maybe next time kena reduce the amount of sugar.
Bahan-bahan ( 10 x 10 x 1 inci )

Bagi Lapisan Bawah
500ml air
180gm gula pasir
300ml santan pekat
10gm agar - agar powder
500gm cendol
sedikit garam
Bagi Lapisan Atas
500ml air
200gm gula merah
300ml santan pekat
10gm agar - agar powder
1 biji kuning telur
sedikit garam

Cara-cara

Bagi Lapisan Bawah
Masakkan air, agar-agar powder dan gula sehingga mendidih.
Masukkan santan dan garam. Biarkan mendidih sedikit.
Masukkan cendol. Kacau sedikit. Angkat. Tuangkan kedalam acuan. Tips : untuk acuan. Basahkan dengan sedikit air. Lapikkan dengan plastic (saiz plastic mestilah lebih besar dari acuan) supaya mudah keluarkan dari acuan nanti untuk dipotong.
Bagi Lapisan Atas
Masakan gula merah dengan sedikit air (drp 500ml dalam resepi ye) sehingga gula hancur. Tapiskan air gula.
Masukkan air gula + baki air dan agar-agar powder. Masak sehingga mendidih.
Kocoh kuning telur di dalam santan. Tuangkan santan kedalam adunan. Masukkan garam. Biar mendidih sekejap. Padamkan api.
Tips : Sebelum tuang adunan atas, pastikan adunan bawah sudah keras dan cucuk dengan garpu di serata adunan.
Tips 2 : Tuang adunan lapisan atas perlahan-lahan. Sebaik-baiknya tahan adunan dengan sudu supaya adunan jatuh dengan perlahan.