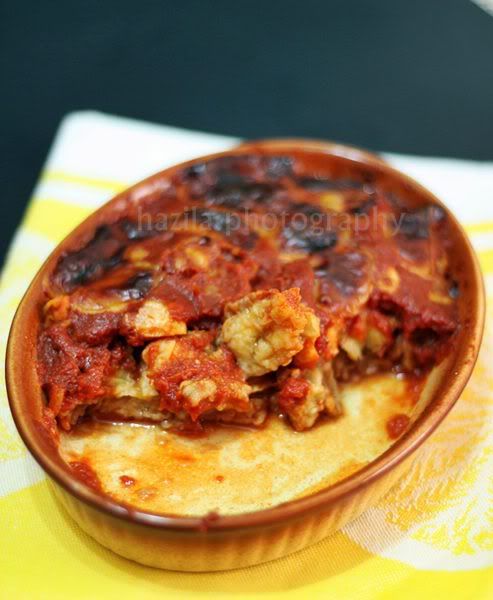 Dah beberapa hari berkampung kat Korea, jadi kita start pergi Itali lah pulak ye. Hari ni kita jadi vegetarian, asyik makan daging, ayam dan seafood je, apa kata kita ubah selera sikit. Dulu dulu saya tak suka makan terung, kecuali kalau buat pajeri je. Tapi bila dah selalu makan, rasa cam sedaplah pulak. Sebabkan saya terleka dan guna suhu suhu sedikit tinggi, cheese kat atas tu terhanguslah pulak. Tapi still okay. hehehehe...nak kata camne kan....
Ingredients
1 small eggplant
1 egg, slightly beaten
1 tablespoon water
1/4 cup all purpose flour
2 tablespoon cooking oil
1/3 cup grated parmesan cheese
1 cup meatless spaghetti sauce
3/4 cup grated mozzarella cheese
Methods
1. Washed and peell eggplant, cut cross wise into 1/2 inch slices. Combine egg and water, dipp eggplant slicess into the egg mixture, then into flour, turning to coat both side.
2. Preheat oven to 180C, in a large skillet, cook eggplant half at a time in hot oil until golden. Drain on paper towel.
3. Place eggplant slices in a single layer in a suitable baking dish, sprinkle with parmesan cheese. Top with spaghetti sauce and mozzarella cheese.
4. Bake for 10 to 12 minutes until heated through.