Dah lama saya tak masak lunch masa weekend, patutnya takde plan nak ke pasar hujung minggu baru baru ni. Tapi bila my husband cakap ada tetamu nak datang, jadi beli barang sikit buat stok. Manalah tau tiba tiba nak tunjukkan skill akak memasak kan.... Tapi kalau dah pergi pasar, memang boleh lupa diri. Macam macam nak beli, maklumlah bukan selalu boleh pergi pasar kan.
Setiap kali pergi pasar, my husband mesti pesan beli ketam. Sebabkan baru je makan ketam, saya beli seekor je. Kali ni saya masak Kam Heong Crab.
Ingredients
2 pcs crabs - fried till golden brown
200 gms shallots*
200 gms garlic*
200 gms cili padi * - depends on how hot you want
200 gms dried shrimps*
1 stalk of lemongrass - thinly sliced
1 stalk of torch ginger ( bunga kantan )- thinly sliced
1 tablespoons of curry powder
2 tablespoons of dried chilli paste
1 tablespoon oyster sauce
1 stalk of curry leave
Salt and sugar to taste
100 ml water
Method
Blend all the ingredients *. Heat the oil and fry the blended ingredients till fragrant.

Add in the curry powder,dried chili paste and oyster sauce. Fry them for a while.

Add in the water, lemongrass and torch ginger. Bring them to boil.

Then add in salt and sugar to taste. Let it boil for a while and then add in the crab.

Mix the crab and the ingredients well.

The dish is ready to serve.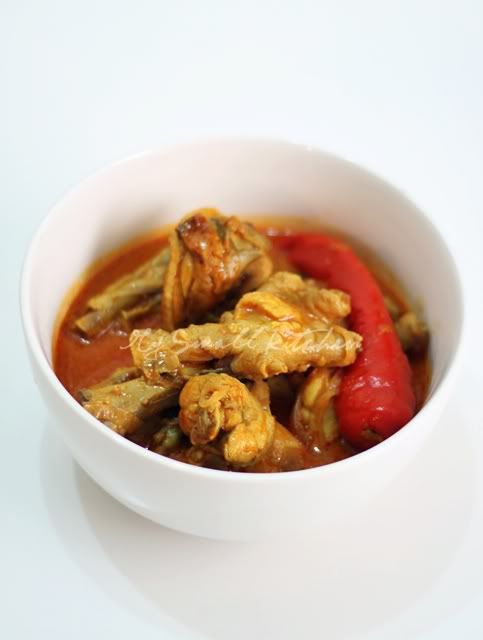 Sebabkan ketam tu saya masak sedikit kering, so saya buat kari kaki ayam yang berkuah. Biasanya saya ke Pasar Seksyen 6, Shah Alam untuk beli barang basah. Salah seorang yang jual ayam tu jiran kat kampung. So kalau beli ayam seekor, dia akan bagi extra kaki, leher, pedal dan hati. So 1 beg untuk ayam, satu beg lagi untuk aksesori ayam yang lain.Mula saya terfikir nak buat sup kaki ayam tapi sebabkan my husband "KURENG" sikit, kenalah tukar menu. Maklumlah dia kan ala ala Ranjinikanth......