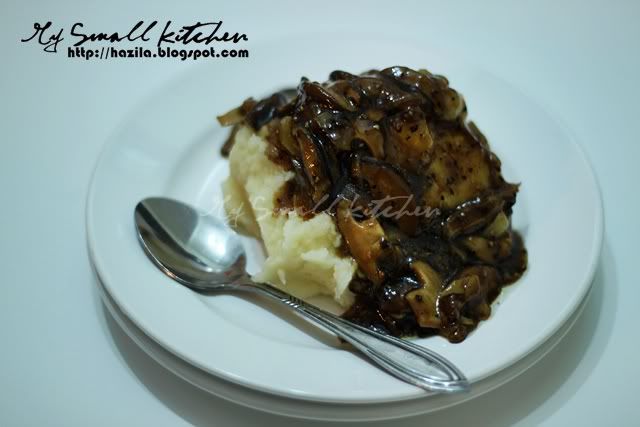 Dah 2 hari saya tak masak, plan punyalah bagus. Macam macam nak masak bila sampai rumah. Yelah, hari tu saya pergi pasar, banyak juga saya beli barang basah.
Hari Rabu tu dah plan nak masak ketam lagi sebab my other half yang request. Elok keluar je dari office, punyalah teruk jem sepanjang jalan nak keluar dari Seksyen 13. Selalunya jem teruk cam tu kalau bulan puasa je. Memandangkan punyalah jemsampai tak bergerak terpaksa patah balik. Rupa rupanya ada accident berdekatan dengan susur masuk ke Bukit Jelutong. Bila dah patah balik, makan kat kedai la jawabnya, sebab sampai rumah dah hampir pukul 8.30 mlm.
Semalam plan nak sambung project the day before tapi sebab ada kerja yang perlu diselesaikan, terpaksa stay back sampai pukul 7.30 mlm. Sambil siapkan kerja, saya order Pizza, Meaty apa ke namanya. Separuh dah makan sambil siapkan kerja, so separuh lagi bawa balik.
Saya tinggalkan pizza tu untuk my husband, saya buat mashed potato dengan black pepper and mushroom untuk diri sendiri. Tak larat nak telan pizza dah. Tapi gambar gelap gulita sebab bateri flash dah habis. Malas nak recharge, so saya ambil je gambar tanpa flash. Kalau tak, nanti beberapa hari takde entry kat sini kan...