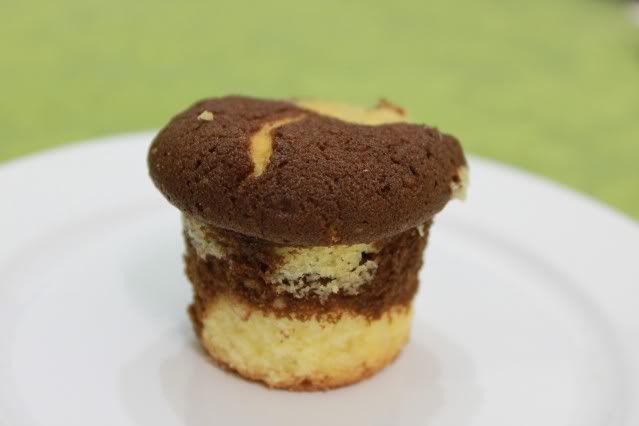 Saya nampak resepi ni kat rumah MamaFami. Saya selalu failed kalau bab membaking ni, ada je yg tak menjadi. Tapi kali ni walaupun masih belum perfect, tapi ok lah. Yang penting memang gebu dan lembut.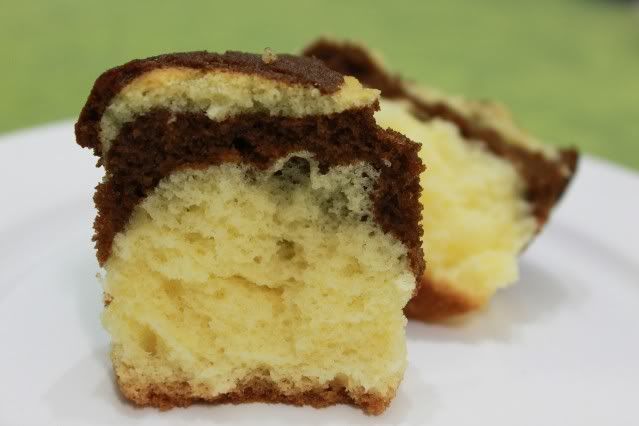 MILKY MARBLE CAKE
Ingredients :
250g butter
230g castor sugar
2 teaspoons ovalette
4 eggs
270g superfine flour
1 teaspoon baking powder
60g condensed milk
2 tablespoons cocoa powder
2 tablespoons fresh milk or evaporated milk
1 teaspoon chocolate paste or chocolate emulco
Method :
1. Sift superfine flour and baking powder. Set aside.
2. Cream butter, castor sugar and ovalette till light and fluffy.
3. Add eggs, one at a time, beating well after each addition.
4. Fold in the sifted ingredients. Add in condensed milk.
5. Divide the bater into 2 portions. Leave one as it is.
6. To the other portion, add in cocoa powder, fresh milk and chocolate paste/chocolate emulco.
7. Scoop 2 tablespoons of plain mixture onto the centre of a well-greased and floured cake tin.
8. Scoop 2 tablespoons of cocoa mixture on top of the plain mixture. Repeat till finished.
9. Bake in a preheated oven at 180 C for 40 - 45 minutes.